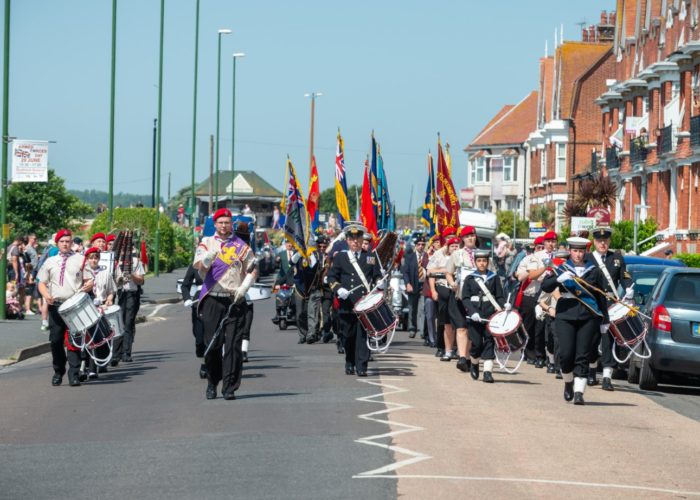 Littlehampton Town Council is delighted to announce that this year's Armed Forces Day event will take place on the Seafront Greens on Saturday 25th June 2022.
Join us from 10:30am for a FREE action-packed day to celebrate and honour those that serve and have served in the Armed Forces. There will be lots of entertainment and activities for all the family including:
Replica Static Spitfire
Stannage Stunt Team
Starlings Aerobatic Display Team
Battle of Britain Memorial Flypast
Military Vehicles
RBL Riders
Armoured Vehicles Display
The Band and Bugles of The Rifles
Gatwick Caledonian Pipe Band
Cadets Massed Band Performance
Charity Fair
NAAFI Tent and Various Catering Stalls
Army Cadets Assault Course
Museum tent
Parade and Service
The Parade Orders can be found here: Parade Orders 2022.
Timings
10:30- Parade
11:00 – Service
11:30 – The Starlings Aerobatic Team (over the sea)
11:55 – Gatwick Caledonian Pipe Band
12:30 – Stannage Stunt Team
13:20 – The Band and Bugles of The Rifles
13:55 – Cadets Massed Band on the Stage by the Sea
14:20 – Armoured Vehicles Display
15:00 – Stannage Stunt Team
15:45 – Battle of Britain Memorial Flypast Spitfire Aerial Display (over the sea)
16:30 – Sunset Service
(For your safety please do not go into the sea during the aerial display).
We are also inviting uniformed groups and veterans to be part of the parade and Drumhead Service. Please contact us on 01903 732063 or email events@littlehampton-tc.gov.uk if you want to be involved.